Learn with Align
When you subscribe to Align, you join a community that is committed to lifelong learning.
We offer Align Advisor-led courses and partner with leading business coaches to give you the resources to implement better business habits in your organization and Achieve Big Goals Faster!
Our services and learning opportunities are built with your success in mind. It takes commitment from your entire organization to successfully accomplish your goals. Let us help you get there.
Align Advisors also offer personalized services to further enhance your onboarding experience.  Check them out here!
Featured Learning Opportunity
If You're Ready To Discover The Secret To Taking Your Successful Business And Scaling Up To 10X It's Current Value WHILE Doubling In Growth…

Click here to watch the free 90 Minute Video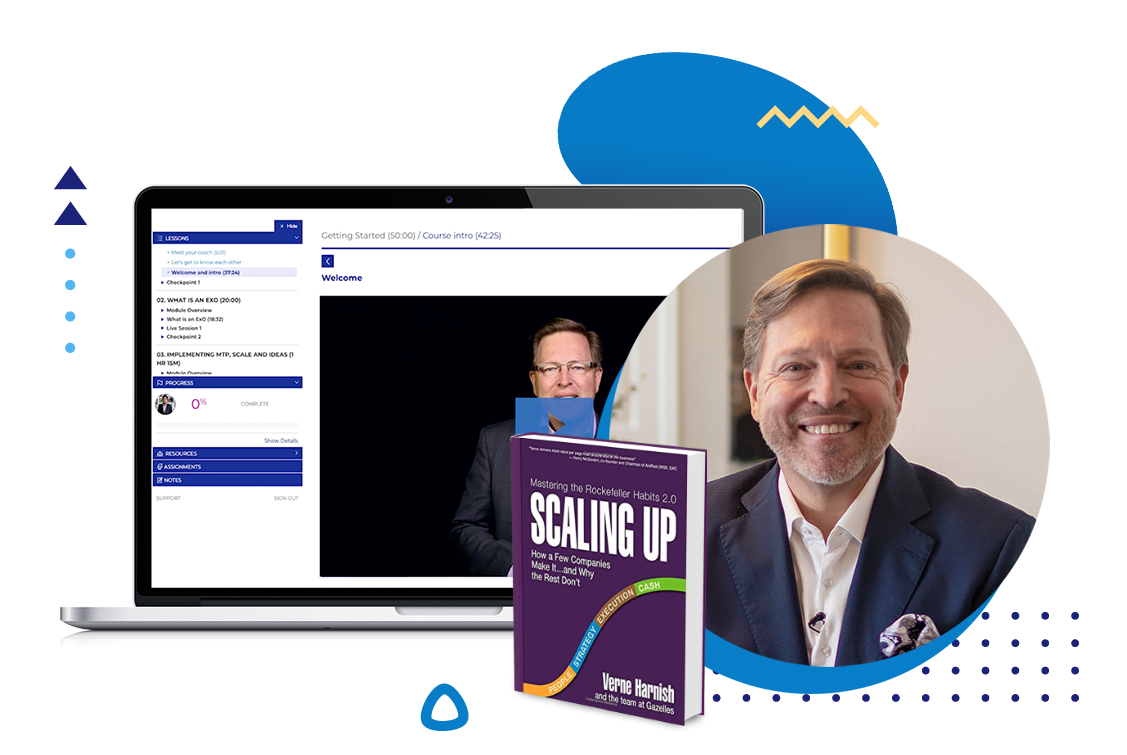 Brought to you by our partner Growth-Institute. 
Bring your Advisor to you!
$1500 + Travel and Board
---
Everyone learns differently, bring your advisor onsite to teach the team in person.
Your Align Advisor facilitates a full team training, adopting company-wide habits and using a system to manage growth. They'll share best practices and tailor the session to your specific business challenges.
$1,500 per day + Travel & Expenses
Availability dependent on in-person comfort level of available Advisors
Coach-Led Leadership Course
$1,249
---
Enroll in this 8-part digital leadership course to learn everything you need to know about leveraging software to lead your team to success.
Through a series of activities and informative videos led by top business coaches, you will learn tips and tools to master your own leadership strategy and bring your business to its fullest potential.
Getting Started with Software

Building a Strong Foundation
Advanced Course
$549
---
Guidance on how best to use the software to make the changes to your business you are seeking from the advisors who know the software best.  Get the value of our experience onboarding and supporting thousands of executives.  Advisors will help you navigate implementation of the software to support your company's unique goals and keep your rollout on schedule.
Great for the company who understands their business methodology, but wants Advisor led guidance on the software itself.
Get your company in gear.  By the end of the 8 sessions you will know the software and have the technical knowledge to roll out to the full team.
Why Software and Good Business Habits – LIVE Session

Getting started with Foundation

Get into your communication rhythm

Define Goals and Start to Measure

Expand past leadership – LIVE Session

Get ready for next quarter – LIVE SESSION
Small Group Training & Individual Learning
$89 – $149
---
The everyday user of Align will benefit from expert training on the "how to" of Align. Although the software is very user friendly, you may find that human interaction to guide you through your account works best for your business. Great for a train-the-trainer situation, new group employee onboarding, executive team refresh and more!
$149 for 1 hour or $89 for ½ hour  
Learn with our partners and coaches
Get the blueprint to 2x growth & 10x the value of your business – all at your own pace!
With this special self-paced edition of Scaling Up, Verne Harnish will help you increase sales, create a more efficient team, and eliminate the drama.
Whether you're a one person business or you've grown to $1 BILLION in business, Verne Harnish and Daniel Marcos have taken 4+ decades of results and helping over 10,000 founders, CEOs, and leaders from around the globe and can help you get the growth and scaling up blueprint you need to thrive in uncertain times.
Scaling up your business is hard — and often counterproductive. It makes it even more frustrating to do it without professional guidance and support, but not every business can afford established coaches and consultants. That's why we create the Self-paced Scaling Up Master Business program for you to have support and never feel alone again.
Learn from the experts!  These workshops, seminars, and learning sessions are hosted by coaches that use our software.
Workshops
Scaling Up! Certified Coach workshops and events
Learn More
Petra Coach workshops, events and on-demand learning
Learn More
Are you a coach who has active clients on the software and want to spread the word about an upcoming workshop?  Submit your event to advisor@salesv4.aligntoday.com for review!  Make sure to include your name, event date, registration link and a short description. 
Free resources always available to current clients!