New Data Visualizations to Improve Communications
New improvements help you visualize data on both the web and mobile apps, in turn making your team communication more effective.
Add the new critical numbers toggle to your daily and weekly huddles,
Check out the improved priority and task summary cards on your dashboard
View or edit the latest updates on your team critical numbers in the mobile app.
Critical Numbers in Daily and Weekly Huddles
Increase meeting efficiency and focus with the improved ability to view your team's most important metrics, all in one place. You can now add Company Critical Numbers and Team Critical Numbers as sections in your Daily and Weekly Huddles.
To add them, go to Administration > Manage Huddle Groups and edit a Huddle's settings:


Company or Team critical numbers available as options in both Daily and Weekly Huddles
View, add and edit Critical Numbers right from your Huddles
Priority and Task Card Redesigns in the Web App
These changes bring more information for your Priorities and Tasks into your Dashboard and provide more actionable next steps directly from the Web App.
For "My Priorities Overview":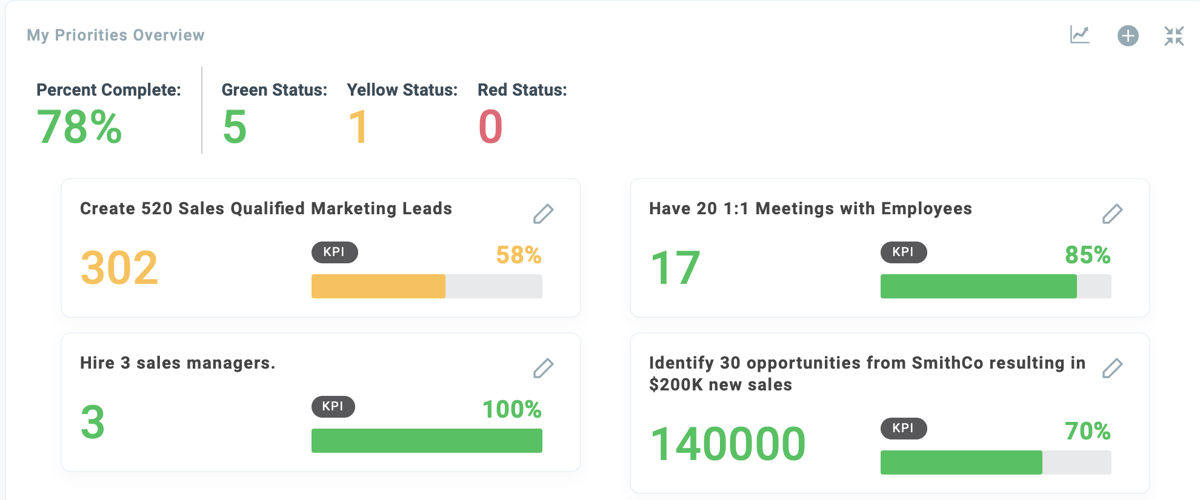 Each priority card now clearly displays your priority's current value right on your dashboard

KPI Values can be updated directly from the Dashboard by clicking on the current value
New summary metrics at the top of the card to show the number of Priorities in each color status

Priority Type (KPI, Task-Driven, Rollup) is now displayed

Priority settings can be edited directly from the Dashboard from the new pencil icon

KPIs can be bulk edited by clicking on the "Edit KPIs" icon on the top-right of the card
Team Critical Numbers in the Mobile App
Within the Mobile Application Align Dashboard, you can now use the team dropdown to view and edit a team Critical Number.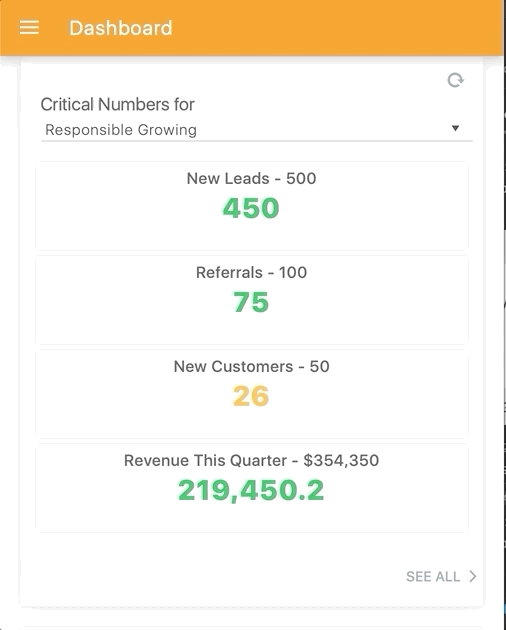 Minor Improvements and Bug Fixes
You can now create Stucks directly from Huddles in the Mobile App.

You can now create Top Tasks directly from Huddles in the Mobile App.

Include color status in the heat map tooltip for a given week, if Priority is User-Driven Status Type

Bug: fixed instance of tagged Weekly Huddle priority heat map loading individual priority contents off-center

Fixed iOS issue in the Mobile App where checking off a Top Priority directly in the edit screen didn't save the change

Bug: fixed the date/time picker for Surveys scheduled delivery

The Participation Report exports directly to PDF now.

Bug: fixed instances of Critical Number values with commas that would sometimes cut off when viewed on the Manage Companies pages

Bug: fixed Web App Manage Priorities page heat map, now the color status is directly changed via the tooltip

OPSP can now only be edited by one person at a time to prevent overwrites.
Get started today!
Every day you wait is a missed day of progress on your goals.