eNPS For The Whole Team
With this release, you can now send eNPS polls to your whole team, even if they aren't yet Align users. Check out the details below.
Full Team eNPS
Align's eNPS polls can now be sent to everyone at your company, not just those that are Align users. This new feature allows for quick and simple measurement of a more complete picture of your team's satisfaction and engagement at work.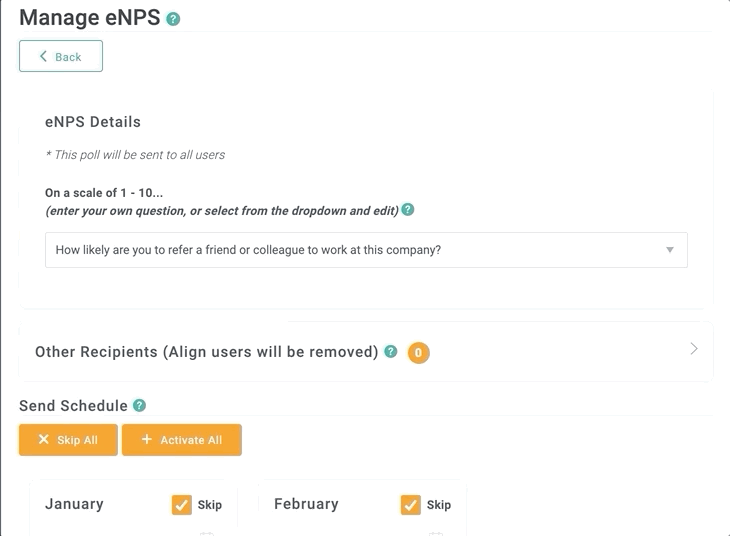 Not familiar with the eNPS as a concept? eNPS focuses on cultivating employee advocacy with one simple question:
"On a scale from 0-10 how likely are you to recommend working for our organization to your family or friends?"
.
By turning engagement into a tangible metric, eNPS provides a method for quantifying engagement over time, helping leaders identify where efforts need to be made to improve team culture. Implementing a consistent eNPS survey can not only unveil areas for progress but also develop a culture of feedback in an organization where people feel comfortable expressing themselves freely.
Read our blog post covering the subject, or watch this video:
Full Team eNPS is a paid add-on feature. Learn about pricing and access.
Minor Updates
Upgraded the Weekly Huddles Summary report to include Daily Huddles as well. A user can select "All Daily and Weekly Huddles", "All Daily Huddles", "All Weekly Huddles", or select an individual Huddle. This report is now called Huddles Summary.
Fixed a bug with the Task grid that was causing some icons to be hidden on certain screen sizes.
Fixed a rounding discrepancy for the response rate of surveys between the results UI and the report export.
Removed some unneeded borders in the OPSP PDF export.
Fixed a bug where other user's Top Tasks in Weekly Huddles were sometimes not visible if it had visibility settings on it (even though permissions allow it).
Fixed a bug where Critical Number values were being marked out of date when they weren't.
Get started today!
Every day you wait is a missed day of progress on your goals.